Your home is worth more than your neighbor's because you love it more!
Posted by Will Layton on Tuesday, September 16, 2014 at 10:20 AM
By Will Layton / September 16, 2014
Comment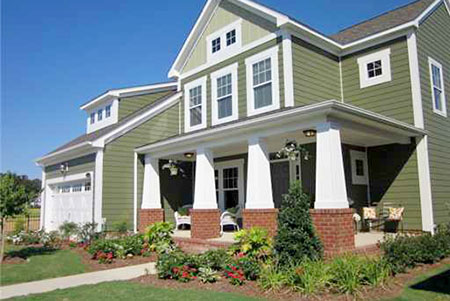 Think about how much time and effort you have put into making your home a comfortable place to live. This must be worth something, right? You have spent countless hours painting (not to mention picking out paint colors), rearranging furniture, and cleaning. And that is only on the inside! How many hours have you logged beautifying the outside of your home?
Now you are thinking about how much your home is worth because your neighbor just listed her house, or you want to refinance, or you plan to move! Let's make sure that everyone sees the value you have added to it! Here is a quick summary of how home values are determined in Virginia Beach.
There is a catch 22 when it comes to calculating the market value of your home. You need the market value to price it right before you sell it, but you can't find the true market value until it sells. At the end of the day, you peer into your crystal ball in an attempt to see what the future buyer actually paid. The following discusses the pros and cons of the different crystal balls.
Appraisals
Appraisals are most common when getting a loan to buy a home. It is the way the lender determines a buyer is not overpaying for the house. But appraisals are like black magic. You can make them work for you in good ways and bad ways. We all want an appraisal to be an exact science. After all, the appraiser issues a very official looking report complete with a spreadsheet full of very precise numbers. Clearly these numbers are the result of accurate measuring, right? Sometimes, I suppose. But sometimes I look at an appraisal and wonder if the appraiser is brand new and this was his first job in Virginia Beach. Most of the time they carry a lot of weight because they look official and are almost always unbiased.
Getting an appraisal for a refinance is another beast entirely. In today's market they come in too high. Don't confuse your refinance appraisal with market value because it is not.
City Assessments
The city assessment is not an appraisal. It is not indicative of the market value of your home. The city simply assigns a value to your home for the purposes of taxing it. In theory it should be the exact market value of your home. But it is not.
A few years back I refinanced my home and the appraisal was $100,000 above the assessment. We kept it as a rental and moved into a new home that appraised $100,000 below the city assessment. That's one man on one day who saw the city assessment swing wildly in both directions from the appraisal. It is not uncommon for the assessment to be off by 20-30% in either direction.
Zestimates
If you don't have the Zillow app for your phone, get it. It's great fun and it is an easy way to find out the asking price of the home you just drove by. The "zestimate" is Zillow's best guess at the market value of every home. It is based on some proprietary algorithm that takes into account city assessment, structure, lot size, and nearby recently sold homes.
The zestimate is an entertainment tool and notoriously inaccurate. You can set it up to email you the monthly change in the "value" of your home. Some months I find my home worth $30,000 more than the previous month and I cheer and celebrate with my friends at the neighborhood pool. Other months I find myself $30,000 on the unlucky side and look for ways to increase my zestimate, like building a deck.
Have fun with the zestimate, but don't take the number to the bank.
Comparable Market Analysis - CMA
The CMA is probably the most accurate estimate available for the market value of your home. But like an appraisal, it is only as good as the agent doing the analysis. Experience has a lot to do with accuracy. A combination of research, computer savvy, market knowledge, and good old fashioned common sense paves the way to a surprisingly accurate best guess at a home's sale price. When I do a CMA, it does not always marry up with the assessments and the zestimates, but it is almost always right.
The CMA is the best way to ensure you price your home correctly when listing it. It is also the best way to ensure you do not overpay for a home when house hunting. Best of all, it is free!
For the CMA, appraisal, and city assessment, you will get widely different values based on the capacity and wisdom of the person doing the calculations. It's not rocket science, but you should receive an explanation of how your home's value was determined. It's up to you to decide whether or not the appraiser or the Realtor doing the CMA has what it takes to measure your most treasured asset.
When you are ready to maximize the market value of your home in Virginia Beach, just call or email. The process is quick and easy. I look forward to meeting with you.