Why you should buy new construction in Virginia Beach (and why you shouldn't)
Posted by Will Layton on Sunday, November 2, 2014 at 2:39 PM
By Will Layton / November 2, 2014
Comment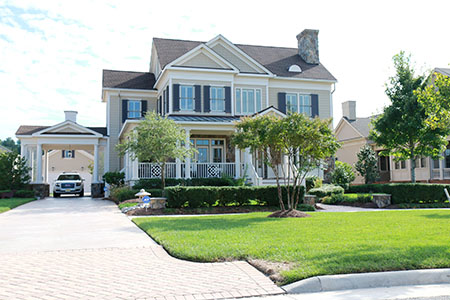 The smell of a new home rivals that of a new car. It's the smell of the carpet and paint, mostly, but it's also the lack of smells common to older houses that help you paint a mental picture of fresh and clean. Everyone likes this. Even people who like old houses. Given the opportunity, few people would pass up a new house in the right neighborhood for the right price. Buying new gives you two things; choices and peace of mind (we will get to why you shouldn't buy new later).
Everybody likes choices and with new construction you get plenty. You can choose your lot, the floor plan, the colors, the carpet, the wood, the tile, the granite, and the appliances. You can even chose your toilet, if you want to go there. The idea of being able to create the personality of your home from scratch can be incredibly seducing. Do you feel like having a particular type of open floor plan is a must for you? A new house might be the way to go.
Homes age, things break, and they need to be repaired. The great thing about a new home is that everything in the house is at the very beginning of its life cycle. The roof is going to last 20-30 years. The air conditioner has 12-15 years of life in it. All of the appliances are under warranty. The entire house has been freshly painted and there is not a scratch anywhere. You don't have to worry about things breaking right away because the builder is going to give you a one year warranty and 10 year structural warranty. Do you just want to live your life and not worry about your house breaking? A new house might be the way to go.
On the flip side, there are two major drawbacks to buying a new house. First, your choices of neighborhoods are limited. Out of hundreds of neighborhoods in Virginia Beach, there may be only be a handful that are new or newer. Most of these neighborhoods are on the edge of the city. If you decide to drive south instead of north, you are in the boonies. If that's what you want, great! But for many it is a sacrifice. You are choosing new over location.
The second drawback is resale. New construction demands a premium price because buyers love it. Part of that premium is the excitement that comes with buying a new house in a new neighborhood. In ten years, that excitement is no longer there. It has moved down the road to the future new neighborhoods. If your neighborhood has a great location and has aged well, you will probably do just fine. If not, future buyers might steer clear. There will always be a group of buyers who will only buy new homes. These buyers will not be interested in your house in ten years. When buying a new house, make sure you can identify the things about the house and neighborhood that will appeal to a buyer other than just being new.
Making the right decision has everything to do with your education and choices. If you are only looking at new construction, you may be missing out on something you might like better. You might even be missing out on a new neighborhood you don't know about. Keep in mind that the Realtor at the model home works for the builder and doesn't care which house you buy, as long as it's in that neighborhood. Ignorance is bliss. Bliss is great until you learn about a different neighborhood and realize you made a mistake. Find a knowledgeable Realtor who can help you with your choices. You will be able to enjoy the process and rest easy knowing that you chose the right house in the right neighborhood.
In case you are wondering who the best Realtor is to help you with your choices, that's me! There isn't enough time for me to write down everything I know about Virginia Beach, Chesapeake, and Norfolk. Most of it is in my head and only comes out when my clients need it. Call or email right now!