Alanton, Virginia Beach Neighborhoods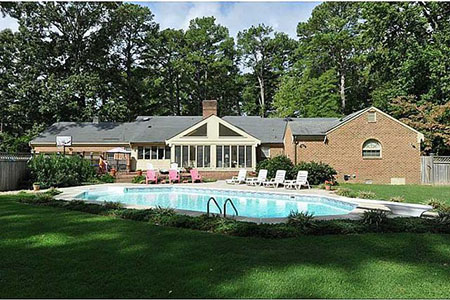 There are a handful of places that come to mind when I think of the best neighborhoods in Virginia Beach. They all have loyal followings, but Alanton is near the top. Alanton could be my favorite neighborhood in Virginia Beach.
Alanton is located in the Great Neck corridor, home to some of the best neighborhoods in Virginia Beach.
What kind of neighborhood is Alanton?
Alanton is a neighborhood full of great character in Virginia Beach. There are 1700 square foot fixer-uppers and 10,000 square foot waterfront palaces, and everything in between. With that in mind, home values range from about $400,000 to well into the millions. The median home price is about $500,000. Foreclosures and short sales are almost unheard of in Alanton (out of 173 homes sales in the last 10 years, there has only been one foreclosure). North Alanton has a neighborhood boat ramp. You can also get your name on the waiting list to dock your boat at the pier on Travis Parkway. There are about 400 homes in Alanton and the neighborhood streets wind and turn for miles. Walking under the canopy of trees on North Woodhouse in Alanton feels unlike anything else in Virginia Beach.
Alanton Virginia Beach – Great Neighbors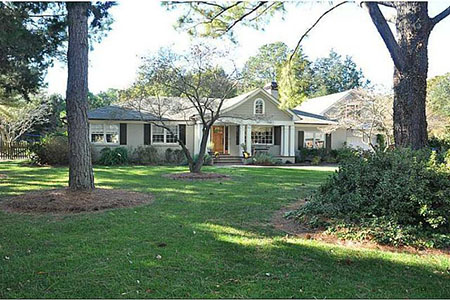 Alanton is the kind of neighborhood that people grow up in and then come back to. You don't find this kind of loyalty everywhere in Virginia Beach. Most of the homes were built in the late 1960's, so there has been plenty of time for the kids to grow up and move back as parents. Neighborhoods go through a natural aging cycle. Although the turnover rate in Alanton is very low, the neighborhood has had the opportunity to repopulate itself with many young families. Many of the older homes have been remodeled. There are not many first time home buyers in Alanton. People move here because they know that they will find like minded people.
Why live in Alanton, Virginia Beach
Great schools
Surrounded by other great neighborhoods, which means other great people
Parks and gathering places
Safe and secure
Proximity to shopping and recreation
Lots of character
Sense of community
Most of these characteristics are self explanatory. The sense of community is more difficult to explain. If you wanted to, you could go to a different party every weekend. There have been a lot of people turning 40 recently. I suppose Alanton is very attractive to the 30 something crowd. However, there are many one acre lots, so there is plenty of privacy as well. And then there is the pool…
The Pool – Alanton Baycliff Recreation Center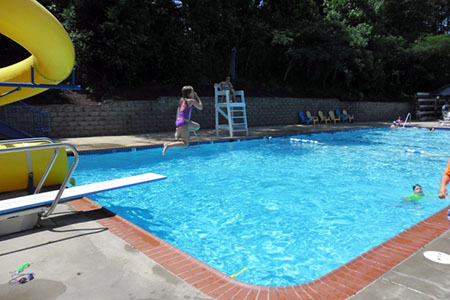 Alanton does not have a property owners association like many neighborhoods in Virginia Beach. But it does have a great pool, the ABRC (Alanton-Baycliff Recreation Center). This was one of the biggest draws of the neighborhood for me. I grew up with a neighborhood pool and it was a very important part of my childhood. The pool here at Alanton is very similar. Memberships are open to everyone, even if you live outside of Alanton. It is a gathering place for adults and kids alike. Bring your own adult beverage and order pizza with your friends and family after work, or organize a cookout. There's a snack bar, too, featuring $0.25 push up popsicles. There have been many evenings when I have biked home from the Alanton pool at dusk with two exhausted kids in the trailer behind me. I was on a swim team growing up and my kids will swim for Alanton. I can't wait for summer to start.
Virginia Beach Schools – Alanton Elementary
My daughter goes to Alanton Elementary, which is right in the neighborhood. She will probably walk when she gets older, but the bus picks her up at the front door. Great teachers and an active PTA make Alanton Elementary a great school. I'm getting ready to sign up for my second day as Watchdog Dad, a program where dads spend the day helping out at school. I am proud to be part of a school district where all the parents are so committed to quality education. Lynnhaven Middle and First Colonial High School are fantastic as well. She'll be able to ride her bike to High School without taking any major roads. If you choose to take the private school route, Cape Henry Collegiate is right next door to First Colonial. I plan to send my kids to Virginia Beach public schools. Alanton is in a great school district which makes the decision that much easier.
We have been in Alanton for several years and plan to stay. It is beautiful. The people are "like minded." Home values are stable. Calling Alanton the best neighborhood in Virginia Beach may not be fair since I am clearly biased, but it is definitely worth a look if you are in the market for a move.
Check out these homes for sale.
Current Alanton Homes for Sale
October 24, 2020
$1,147,500
Med. List Price